Od 01.07.2013. došlo je do izmena u dodeljivanju VP poena za dnevne akcije. Do sada se za dnevnu akciju iz TO-DO liste  1/day    For checking out the latest items at TripleClicks dobijalo 2 VP dnevno, a sada samo 1 VP. Ali to je nadoknađeno uvođenjem dnevnog i mesečnog zadatka na Tabu GOALS. Na početku svakog meseca imate mogućnost da napravite mesečni plan vaših ciljeva koje planirate da ostvarite u tekućem mesecu. Rok za odrađivanje ovog zadatka je do 10-tog u mesecu. Za ovu aktivnost dobijate 5 VP na mesečnom nivou.
Kada budete radili ovaj zadatak prvi put , trebate da unesete 3 slike, koje će vas asocirati na vaše ciljeve. Kada ih postavite one će činiti mini foto album i izmenjivaće se poput slajdova.
Polja koja trebate popuniti (nije neophodno popuniti sva polja) odnose se na
 New PSAs (this month) – koliko planirate učlaniti novih članova u ovom mesecu
EA2 PSAs (total) – koliko planirate da ćete imati članova sa EA2 statusom
New PRMs (this month) broj novih TripleClicks članova
My PRM Sales (this month) planirana zarada od TripleClicks članova
VersaPoints Leaderboard position – očekivna pozicija na Leaderboard tabeli
Power Rank Leaderboard (overall) position – očekivana vaša pozicija na Power Rank ukupnoj tabeli
Power Rank Leaderboard (country) position – očekivana pozicija na Power Rank u vašoj zemlji
Power Rank Leaderboard (class) position – očekivana pozicija na Power Rank u vašoj klasi
Daily VP Streak Leaderboard position – ovde se očekuju još neke dorade (coming soon)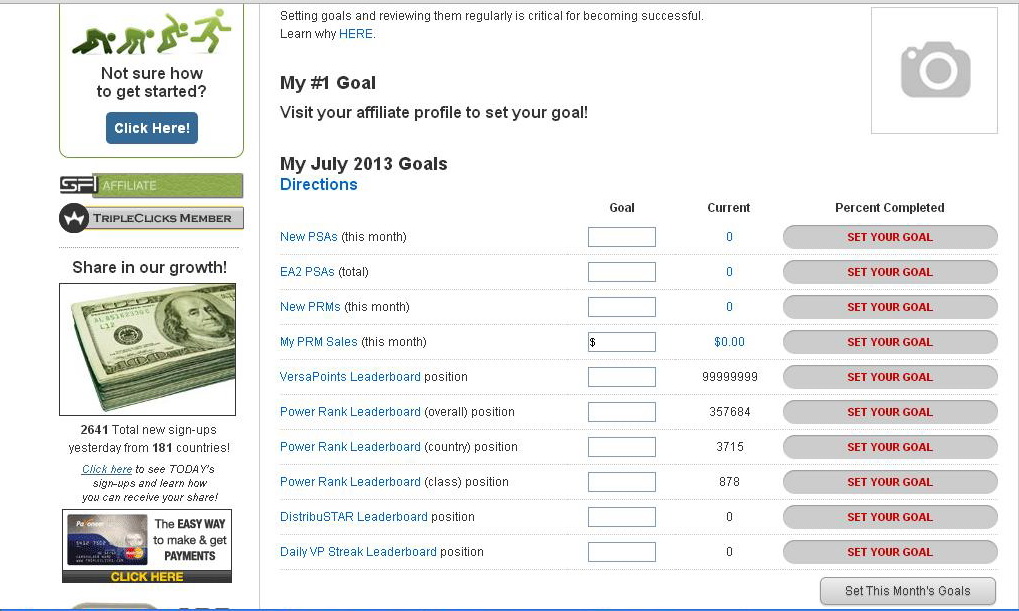 Kada unesete podatke kliknite na taster Set This month's Goals

Tada ćete dobiti pri dnu stranice prostor za unos teksta, a od vas se traži da u to polje unesete vaš dnevni cilj, zadatak. Primer: Danas planiram da učlanim 5 PSA, ili danas ću kontaktirati moje članove u vezi …. ili danas trebam da kontaktiram Marka u vezi …. ili danas treba da šaljem oglase na ….
Ovo je ujedno i vaš novi dnevni zadatak za koji dobijate 1VP dnevno
Ovom novinom vi ne gubite 1VP poen već je samo izvršena prerapodela i plus dobijate 5 novih VP poena na mesečnom nivou za određivanje vaših mesečnih ciljeva.
I još jednom NAPOMENA kada unosite mesečne ciljeve nije neophodno da morate popuniti sva polja.